The Institute for Public Policies was established in 2012 as project of its founder Zdravko Popov. The Institute has the status of a private, non-profit andfoundation and is registered under the Bulgarian Law for Non-profit Organizations. This is guided by the President and Board of Directors. Bodies of the Institute are Board of Trustees and International Advisory Board. All the functions and powers described in the Constitution of the Institute.
The Institute has developed training and research activities, which are globally and regionally oriented. It also organizes public events, such as seminars, lectures, conferences in Bulgaria and abroad.
Web site:
http://ppif.eu/en/home-2/
Zdravko Popov, PhD
Chairman
Public Policy Institute
T: +359 88 4448 785
Zdr.popov@gmail.com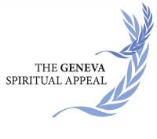 The Geneva Spiritual Appeal is a Swiss-based organization, created in 1999 by spiritual and political leaders from various countries and religious denominations to oppose and denounce abuses of religious or spiritual power and narratives to justify violence, discrimination and exclusion.
The Appeal has been signed by thousands of supporters, including church dignitaries, law makers, business people, lawyers, as well as personalities such as Kofi Annan, Secretary-General of the United Nations; Mary Robinson, President of Ireland and United Nations High Commissioner for Human Rights; Cornelio Sommaruga, President of the International Red Cross Committee and Secretary of State of Switzerland; Sadako Ogata, UN High Commissioner for Refugees; Ruth Dreiffus, President of Switerland, a.o.
To raise public awareness on the manipulation of religion in politics and society, the Geneva Spiritual Appeal organizes research on historical and contemporary narratives, conferences, workshops for teachers and law enforcement personnel, and participates in inter-faith and political mediation initiatives.
The Appeal in Bulgarian
The Appeal in English
The Appeal in Russian
The Appeal in Hebrew
The Appeal in Arabis

https://web.facebook.com/AppelSpiritueldeGeneve?_rdr
Ventzeslav Sabev, MALD
Vice-President
Geneva Spiritual Appeal
T: +41 77 937 57 65 (Switzerland)
T: +359 87 637 6171 (Bulgaria)
ventzeslav.sabev@unitingvalues.org